March has been a hectic month for me.
I've had assessments and an interview for my new job which relied quite a bit on  preparation and I've visited home for nine days to see my family so a lot (and I mean A LOT) of my reading time has disappeared this month.
However, considering all of the real life occurrences (The perks of adulting) I don't think it has been such a bad month. It has been so much worse for me in the past. I have read a total ten books this month and two of those books were approximately 700 pages each.
These are the books I have read this month:
Bound by Love (Born in Blood Mafia Chronicles, #6) By Cora Reilly
My Rating: 4 Stars
Nobody expected them to fall in love.
When Aria was given to Luca in marriage, people were sure he'd break her.
Aria feared the worst from a man like him.
A man without mercy.
But somehow she gained his love.
Love – a weakness a Capo like Luca shouldn't risk.
When Aria betrays Luca by going behind his back for her family, she realizes too late that she might have lost what she's fought so hard to get in the first place: Luca's trust.
The trust of a man who never allowed himself to trust someone unconditionally before.
Can their love survive in a world of betrayal and deat
The Kiss Quotient (The Kiss Quotient #1) by Helen Hoang
My Rating: 5 Stars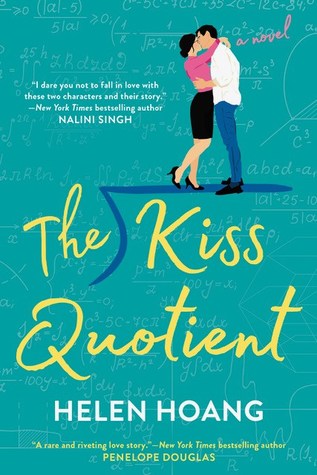 Stella Lane thinks math is the only thing that unites the universe. She comes up with algorithms to predict customer purchases — a job that has given her more money than she knows what to do with, and way less experience in the dating department than the average thirty-year-old.
It doesn't help that Stella has Asperger's and French kissing reminds her of a shark getting its teeth cleaned by pilot fish. Her conclusion: she needs lots of practice — with a professional. Which is why she hires escort Michael Phan. The Vietnamese and Swedish stunner can't afford to turn down Stella's offer, and agrees to help her check off all the boxes on her lesson plan — from foreplay to more-than-missionary position…
Before long, Stella not only learns to appreciate his kisses, but to crave all the other things he's making her feel. Soon, their no-nonsense partnership starts making a strange kind of sense. And the pattern that emerges will convince Stella that love is the best kind of logic..
The Bronze Horseman (The Bronze Horseman #1) by Paullina Simons
My Rating: 5 Stars
The golden skies, the translucent twilight, the white nights, all hold the promise of youth, of love, of eternal renewal. The war has not yet touched this city of fallen grandeur, or the lives of two sisters, Tatiana and Dasha Metanova, who share a single room in a cramped apartment with their brother and parents. Their world is turned upside down when Hitler's armies attack Russia and begin their unstoppable blitz to Leningrad.
Yet there is light in the darkness. Tatiana meets Alexander, a brave young officer in the Red Army. Strong and self-confident, yet guarding a mysterious and troubled past, he is drawn to Tatiana—and she to him. Starvation, desperation, and fear soon grip their city during the terrible winter of the merciless German siege. Tatiana and Alexander's impossible love threatens to tear the Metanova family apart and expose the dangerous secret Alexander so carefully protects—a secret as devastating as the war itself—as the lovers are swept up in the brutal tides that will change the world and their lives forever.
Only Ever You by Siobhan Davis
My Rating: 2 Stars
RYDER
My entire life is a lie, propelled by one wrong decision that altered my fate.
If fans knew the truth, they'd run away screaming. But all they see is Ryder Stone, moody guitarist and lead singer of Torment, and a potential notch on their bedpost.
Only two people know who I really am. My manager has a vested interest in keeping my secret, and the girl I was forced to leave behind doesn't even know the true extent of my shame.
Losing Zeta is both my biggest regret and my proudest moment. But she was the glue keeping me together, and I'm struggling to survive without her. Especially when demons from my past continue to haunt me and the threat of disclosure is ever present.
When she reappears in my life, this time, I'm too weak to push her away.
Her love has the power to save me.
Mine has the power to destroy her.
ZETA
I've worked hard to forget my past. To rise above my messed-up childhood and make something of myself; however, there's no forgetting him.
Ryder's gorgeous face and drool-worthy body are plastered over tabloids and TV screens, reminding me I'm still in love with the boy who captured my heart in juvie.
When he failed me, I thought I'd never again experience such heart-crushing pain. But watching him fall out of clubs with a succession of different girls renews the agony, resurrecting countless unanswered questions.
Now my boss has sent me to interview him. It's a massive scoop for the magazine, and turning it down would kill my career. So, I delude myself into thinking I can handle this.
Perhaps this is the closure I need to finally move on.
Except I'm terrified nothing has changed and one look into those soulful eyes will suck me in again.
Ryder almost destroyed me last time. This time, he could ruin me forever.
Tatiana and Alexander (The Bronze Horseman #2) by Paulina Simons 
My Rating: 4 Stars
My review is due shortly.
Tatiana is eighteen years old, pregnant, and widowed when she escapes war-torn Leningrad to find a new life in America. But the ghosts of her past do not rest easily. She becomes consumed by the belief that her husband, Red Army officer Alexander Belov, is still alive and needs her desperately.
Meanwhile, oceans and continents away in the Soviet Union, Alexander barely escapes execution, and is forced to lead a battalion of soldiers considered expendable by the Soviet high command. Yet Alexander is determined to take his men through the ruins of Europe in one last desperate bid to escape Stalin's death machine and somehow find his way to Tatiana once again.
Slashes in the Snow (Baum Squad #1) by M. Never
My Review: 1 Star
𝐊𝐲
Three years ago my father walked away. Away from our MC, all his responsibilities, and me. We haven't spoken since the day he handed me the keys to the kingdom.
Shoved them down my throat was more like it.
I hate him, and the new family he's playing house with. He left his entire life behind for a woman he barely knows. But I'm strong, resilient, and don't need a damn soul to survive.
At least, that's what I thought…until she walked into my bar.
𝐊𝐢𝐫𝐚
Someone is watching me. I can feel it. I wake up in the middle of the night freaked out of my mind, paranoid a stranger is there. My skin prickles every time I leave my house, because I know someone is following me.
I'm afraid. Alone. And there's only one person left to turn to.
The stepbrother I never met. The man my stepfather speaks so highly about, but never sees. He's the president of a notorious motorcycle club, and exactly the kind of person I need to protect me.
Little did I know, Ky Parish, freakin' hates my guts.
On a Tuesday (One Week #1) By Whitney G
My Rating: 1 Star 
We met on a Tuesday.
Became best friends, then lovers, on a Tuesday.
And everything fell apart on a Tuesday…
Charlotte Taylor has three automatic strikes in my book: 1) She hates me. She also claims that I'm a "domineering jerk with a huge, overbearing ego." (I do have something huge. It's not my ego, though.) 2) She takes our mandatory tutoring sessions way too seriously. 3) She's sexy as hell…And a virgin.
At least, those were her strikes before our study sessions started lasting longer than they were supposed to. Until one innocent kiss became a hundred dirty ones, and until she became the first woman I ever fell hard for.
Our future together after graduation was supposed to be set:
Professional football for me. Law school for her.
But she left me at the end of the semester with no explanation, and then she completely disappeared from my life.
Until tonight.
We met on a Tuesday.
Became everything, then nothing, on a Tuesday.
And now it's seven years later, on a Tuesday…
Fighting to Breathe (Shooting Stars #1) by Aurora Rose Reynolds
My Rating: 3 Stars
Lea Lamb and Austin Wolf were young when they fell in love. They never imagined the future could hold anything other than together-forever. When Lea's father dies in a tragic fishing accident, she's crushed under the weight of her grief and catches a glimpse of another type of future, one she knows she's not strong enough to face.
Austin is angry. For the past fifteen years, he's believed the woman he loved with every ounce of his soul left him without so much as a backwards glance. When Lea unexpectedly returns to their hometown, all the years of heartache inside Austin bubbles to the surface and presents itself as blinding rage.
Faced with the truth about the past, a newly discovered secret, these former lovers will learn that if they want to have any chance at the future they'd given up on all those years ago, they will have to rescue one another from drowning in pain so debilitating it will leave them both fighting to breathe. Contains mature themes.
Into the Deep (Into the Deep #1) by Samantha Young
My Rating: 3.5 stars
Charley Redford was just an ordinary girl until Jake Caplin moved to her small town in Indiana and convinced her she was extraordinary. Almost from day one Jake pulled Charley into the deep and promised he was right there with her. But when a tragic incident darkened Jake's life he waded out into the shallows and left Charley behind.
Almost four years later Charley thinks she's moved on. That is until she takes a study year abroad in Edinburgh and bumps into none other than Jake Caplin at a party with his new girlfriend. The bad-boy-turned-good attempts to convince Charley to forgive him, and as her best friend starts spending time with Jake's, Charley calls a truce, only to find herself tumbling back into a friendship with him.
As they grow closer, the spark between them flares and begins playing havoc with their lives and relationships. When jealousy and longing rear their destructive heads, Charley and Jake struggle to come to grips with what they mean to one another.
And even if they work it out, there is no guarantee Charley will ever trust Jake to lead her back into the deep…
Sweet Mercy (Dirty Empire #1) by Nina West
My Rating: 3.5 Stars 
One visit to my father in prison—convicted for a murder he didn't commit—and I've attracted the attention of the last man I'd ever want knowing that I exist.
Gabriel Easton.
Son of an infamous crime boss. Pretentious liar. Merciless womanizer. A scoundrel to the core.
Worse, he has figured out how desperate I am to protect my father from brutality behind bars. He has the power to grant that protection and he has offered it … for a price.
Me.
I am to become a prisoner in his playhouse mansion, to live with him until he tires of having me around.
I'll do anything for my father, including agree to Gabriel's cruel game. But I won't comply with his every whim and wish.
Not when he taunts me with that ruthless spark in his cold blue eyes.
Not when he requires that I share his bedroom at night.
Unfortunately for me, I think my loathing for him is what he's enjoying most.
That's fine. By the time I'm through with him, he'll be crying my name.
Mercy
Here is to hoping that April is an even better reading month. What has been your favourite book this month?
Lucy xx