It's the middle of the week which mean it's Top 5 Wednesday day!
Top 5 Wednesday
This weeks topic is:
Classics I Wish Had Modern Adaptations.
Strangely, I struggled with this one for a while. For a long time I have enjoyed classics because they portray what life was like during historical eras to me. It's like I am able to  experience life through history from all perspectives. Yes, I know it is a dramatised depiction of the times but I have a fascination with how the happenings in society influence literature. I'm that obsessed that this was the focus of my MA dissertation. However, that is a story for a different day. To think of classics with modern day adaptations it's not something I have done. I love my classics and I always thought I loved them too much to change them. Yet, I have racked my brain and for the past few days and I've pondered over which classics I would like to see with modern adaptations.
So low and behold here are my top 5 classics that I wish could possibly accept if they had modern adaptations.
Tess of the D'Urbervilles – Thomas Hardy
I know this book has had a few adaptations in the past but I would like to see this set in a modern day setting. Be it a film, a television series or a book. I'm just intrigued to see how someone would recreate this story in modern day society.  I can honestly say I have no preference to how it is done. This is my favourite book and I would probably devour any adaptations created.
Northanger Abbey – Jane Austin
Northanger Abbey is one of my favourite Jane Austin novels and I think that a modern adaptation of this book would work. A naive, witty teen who's imagination gets the better of her would be entertaining and captivating to recreate in modern day society.   Honestly, I don't think it is an impossible task.
Jane Eyre – Charlotte Brontë 
Jane Eyre was one of the first classics I read and I think a modern adaptation would be really interesting.
I don't know how it would work exactly but I'm sure there's a way to do it justice. It has love, drama and suspense and it would be a compelling  choice.
Wuthering Heights – Emily Brontë
A second Brontë classic has made in on my list. Wuthering Heights is a story that I believe would work really well if it was given a modern adaptation. I believe that the drama and passion within this story would transfer through to modern day society in a great way.
Persuasion – Jane Austin 
Another Jane Austin classic has made my Top 5 list. I think it would be a really entertaining and compelling story if it was given a modern adaptation. I'm not going to lie, my decision is solely focused on the romance element of this novel.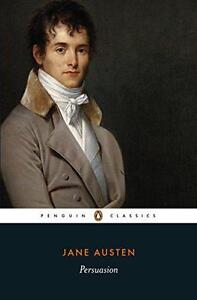 So there you have my top 5 classics that I wish could possibly accept if they had modern adaptations. What classics would you include in your list?
You can follow me:
Twitter : Click here
Instagram: Click here
Lucy xx