I saw this tag online a long time ago and I've always wanted to give it a go.
The A-Z Book Tag.
So here goes:
A –  Author you've read the most books from

Jodi Ellen Malpas
Jodi is a romance writer and I read her books religiously. I don't know what it is about her writing. Maybe it's because her books are easy reads. Whenever I am in the mood for a romance book she's great to turn to.

B – Best sequel ever
Sarah J Mass – A Court of Mist and Fury
I was reluctant to start this book. I enjoyed the first instalment (A Court of Thorns and roses). However, something was lacking and it left me a little disappointed. Don't get me wrong! I still enjoyed the story. I just wasn't left fully satisfied. I think it is a common belief that sequels aren't as good as the first installment and this goes for books, film, TV and even music.
I was pleasantly surprised with A Court of Mist and Fury. I absolutely loved it. I think this book is the reason I love the series so much.

C – Currently reading
Deborah Harkness – A Discovery of Witches
I'm not too far into the book. Probably just over 100 pages but I'm really enjoying it so far.
The television series has been advertised for a while and I was really interested. I've decided to read the first book before watching the show and it is driving me crazy. All I want to do is sit at watch it but I'm determined to complete the book first.
D – Drink of choice
This depends on my mood and the time of year!
I do love a good cup of coffee.
However, sometimes I crave a cup of tea. Other days the idea of a hot drink just doesn't appeal to me and all I want is a cold glass of something sweet and fizzy.
My current choice of drink is tea. I don't know if it is to do with the cold weather we are currently experiencing or what.
E – E-reader or physical book
Physical Book!
Physical books all the way. There is nothing better than getting comfy and opening a new book for the first time.
I'm not going to lie, E-books / E-readers are extremely useful and I do mix it up. It just depends on what's convenient for me at the time.
F – Fictional character you probably would have dated in high school.

When I was 16 – 17 the only person I wanted to date was Edward Cullen. Thinking back on this it's embarrassing.
I tried to read the Twilight series again as an adult a few years ago and I had so many issues with it. I got half way through New Moon and gave up. Literally questioned my teenage thought process.
I don't really know who I would have dated in high school now. However, since I left school 10 years ago this year I'm changing the question this to:
"Fictional character you would probably date now"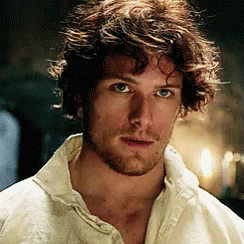 JAMIE FRAISER! (Diana Gabaldon – Outlander)
Nothing more needs to be said.
G –  Glad you gave this book a chance
There are not many books that I'm glad I've given a chance because I've really enjoyed them. I have got to a point in my life where I will only read books if I want to. I feel that there is no point in wasting time on books that I already know I won't like.
However, looking back at my days at University I can assure you there are plenty of  books that I would have happily overlooked but I gave them a chance and I can honestly say I'm glad I did. They brought me out of my comfort zone.
George Orwell  – 1984
I read this book during a Totalitarianism and the Holocaust module during my second or third year at uni. It was a tough module but I'm so glad a completed it. I learnt so much.
During this Module Orwell's 1984 was on the reading list. I went into it thinking this will be fictional and I'm going to hate it and although it is not my usual genre of book I'm glad I gave it a go.  What freaked me out the most was the similarities of modern day life that were depicted. I'm glad I gave it a chance because it put so much into perspective for me.
James Joyce – Ulysses
Now, I did not complete this book and I don't think I ever will. I had an entire module on this book during my Masters degree and it was the longest term I have ever experienced.
I hated the book. Absolutely hated it!
I had been introduced to Joyce during my first year at university when 'A portrait of the Artist as a Young Man' was on one of my reading list. I couldn't even finish the first page. Joyce's writing style was not for me and I really struggled with it. I was so unhappy when I was told I had to spend an entire module on one of Joyce's books. I dreaded it. However, I'm glad a gave it a chance and I'm proud that I tried to complete. This is yet another book that took me out of my comfort zone.

H – Hidden gem
Terry Nation – Rebecca's World
This book was read to me when I was in year 5 by my teacher. Every afternoon we would sit and listen to her read a chapter of an adventure book and this is the book I remember. I don't think it is in print anymore either so buying a new copy is out of the question.
I loved this story growing up and everyone I have spoken to about it doesn't know what I'm taking about!

I – Important moment in your reading life

Reading my first classic and falling in love with it.
Charlotte Bronte – Jane Eyre.
I don't have much to say about this really. I always struggled to read the classics and I spoke to my teacher at the time and she told me to read Jane Eyre. Her advise was to take it slow and not to rush it. I'm So glad I listened to her.

J – Just finished
I had to visit home for a few days last week and while I was there I didn't get much reading done. I did start Tahereh Mafi's Shatter me but I was too distracted so it has been put back onto my to be read shelf for now.
K – Kind of book you won't read
I am not a fan of crime and horror books. These genres are not for me.
People still recommend them to me and it's just a big no! It's not going to happen
L – Longest book you've read
I don't know!
James Joyce's Ulysses was up there but like I have said previously I didn't complete it.
Harkness'A Discovery of Witches is pretty long too. There's just under 700 pages I think.
I suppose it depends on what people class as a long book.
I can honestly say I don't care how long books are. If I want to read it I will. Regardless of the amount of pages in it.
M – Major book hangover because of

Sarah J Maas' A Court of Thrones and Roses series ruined me for a while. I was in such a blip after completing that series. I really struggled to pick up a new book for a few weeks.

N –  Number of bookshelves you own
I have 4 bookcases in my dining room that are full.  3 of these cases have 8 shelves and the smaller one has 4 shelves.
I also have inbuilt shelves in my bedroom that I'm trying to persuade the fiancé to let me use. Otherwise I'm going to have to buy more.

O – One book you've read multiple times
Thomas Hardy – Tess of the D'Urbervilles.
It is my favourite book. I absolutely love it.
There is nothing much to say other than I recommend that everyone reads!
P – Preferred place to read

In the winter: I love to read on the sofa in my living room. I curl up in the corner by the bay window with a hot drink, my hot water bottle and a blanket.
In the Summer: I love to read outside. Find myself a comfy chair, with a cold drinks and music on in the background.

Q – Quote that inspires you
Winston Churchill: Success is not final,  failure is not fatal: It is the courage to continue that counts.

R – Reading regrets
I have no reading regrets.
I might look back on a book later in life and disagree with my previous opinions but I won't regret it. It's just a lesson learned.

S – Series you've started and need to finish
Sarah J Maas – Throne of Glass Series. I read the first book and bought the next two but have yet to pick them up and complete the series.
T – Three of your all time favorite books
Thomas Hardy – Tess of the D'Urbervilles
Charlotte Bronte – Jane Eyre
Mary Shelley – Frankenstein
They all mean something to me in their own way.

U – Unapologetic fangirl
Diana Gabaldon's Outlander Series!! OMG.

V – Very excited for this release more than others
I'm trying to avoid new releases at the moment so I can concentrate on my to be read shelf.
I've not even thought about it.
W – Worst bookish habit

My opinion on this changes regularly because I change my mind constantly.  However, i like make a note on how I'm feeling when I'm reading so  I annotate my books a lot.
Sometime I regret doing it so i go though a post-it note phase. However, writing on post-it notes is just too much when you are sat on a Metro during rush hour and it's just easier to whip out a pen and write what I need to before I forget.
I's great when you go back to reread a book a few years down the line. When your feelings and opinions change and you can think about how your through process has changed.
X –  X marks the spot: Pick the 27th book from the top left shelf
Katie Contugno – How to Love
Y – Your latest purchase

Deborah Harkness – A Discovery of Witches
Z –  Z snatcher–book that kept you up way too late
K Brombergs – The Driven Series.
I was obsessing over it and I don't know why. I just couldn't put it down.