I have a severe lack of organisational skills when it comes to my free time. Everything else in my life is structured nicely from when I wake up to when I climb into bed. However, when it gets to my days off of work it is a completely different story. I mean, I do plan things in my head, like what room I'm going to decorate next and what I want to write about in my next blog post. It just doesn't pan out that way on the day.
I really want to change things around a little bit. I want to schedule my days off and I am hoping that having a particular post on a specific day of the week will help ease me into scheduling my free time. It might not be a day off like today but I'm now home and ready to write. Hopefully, by sharing my top 5 Wednesday's and making a small alteration to my schedule, it will help me on my way to becoming an organised individual.
So lets get into it. Goodreads Top 5 Wednesday  has been on my radar for so long. This weeks topic is Children's Books to Read as an Adult. 
Rebecca's world, Terry Nation
It was the eleventh day of the school holidays and Rebecca was bored. But events take a dramatic turn for the better (or worse) when she finds herself transported to a distant planet whose people are terrorized by jelly-like monsters called Ghosts.
Rebecca's World is a marvellously gripping (and frequently comic) adventure story, with a memorable cast of characters. A story that will be enjoyed by children and adults alike.
This was the first book I read. I remember my Year 5 teacher Mrs Burton reading it out to the class during our daily reading time. As soon as we had finished reading it I asked to borrow the book so I could read it again at home. I borrowed it so many times during that year. I remember the first time I borrowed it I went straight to my Auntie's house after school. I sat on her couch in the dining room with a glass of fizzy pop and started to read it alone. I was so excited! I think regardless of the book, a person should always read the first book they read independently as a child and as an adult. I'm pretty sure that the author Terry Nation also had something to do with with creation of the Darleks in Doctor Who too. Pretty cool!
Alice's Adventures In Wonderland, Lewis Carroll
It tells of a girl named Alice falling through a rabbit hole into a fantasy world populated by peculiar, anthropomorphic creatures. The tale plays with logic, giving the story lasting popularity with adults as well as with children. It is considered to be one of the best examples of the literary nonsense genre. Its narrative course and structure, characters and imagery have been enormously influential in both popular culture and literature, especially in the fantasy genre.
I loved this story when I was younger. I remember thinking it was so magical and falling in love with all aspects this new world I'd been introduced to.  After re-reading this books as an adult I learnt that it is clearly not just for children. There is so much more to Alice than any young child would realise and I would recommend that all adults read this book if they haven't already done so.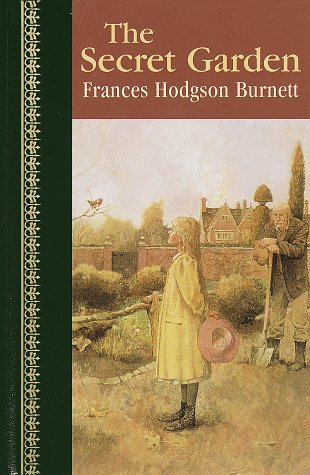 The Secret Garden, Frances Hodgson Burnett 
Ten-year-old orphan Mary Lennox comes to live in a lonely house on the Yorkshire moors and discovers an invalid cousin and the mysteries of a locked garden.
I love this story! I'm not going to lie I do love the book but I also have a soft spot for the film too.  I don't think that the prominent themes that reoccur throughout this novel would be obvious to a younger audience.  For example, The impact of loneliness on an individual, the importance of companionship and the relevance of children in society during this particular era. This conversation could get deep real quick so I a going to pause there. However, if anyone up for a read-a-long. I feel like one is needed.
For my next two selections I simply can't just pick one story/book. Therefore, I am choosing two children's authors that are a must read.
Beatrix Potter
I am not going to lie. There are a number of reasons I have short listed Beatrix Potter into  my top 5 and one of them may be for sentimental reasons but I think everyone should read the genius of Potter as an adult.  I had so many editions of these stories when I was little and I loved them. My dad bought me my most recent editions when I was in secondary school and I kept the 3 books with me through university. You can never get bored of these tales whether your a child or an adult. There was no way these would not end up on my list, from the mischievous Peter Rabbit to the naughty Tom Kitten you have to love these tales at all ages.
Roald Dahl
Dahl's creativity is something that everyone should experience more than once. There is a hidden dark side to the worlds and characters Dahl created that only adults will pick up on. I know that this is where arguments can be made where some people would state that they are too dark for children but I read these books when I was younger and I loved them. Whether your reading them for the first time or for the one hundredth time, adults need to visit these worlds. My favourite Roald Dahl book changes all the time.  I have to be honest here though. The Witches, not a fan. Especially after the film. The film was terrifying.
What children's books do you think adults should read? I'm really interested in this topic so let me know.
Follow me:
Twitter : Click here
Instagram: Click here
Lucy xx