As if it is March already! The beginning of spring is here, although the weather outside may lead you to believe otherwise. I do love snow but after 48 hours of nothing but blizzards and wind it does become a nuisance. Thankfully, everything seems to be back to normal now and I'm looking forward to the warmer weather and longer days that spring will bring.
February was a great month. I didn't read much at all but it was to be expected with everything my boyfriend and I had planned.
Books
Everless (Everless #1), Sarah Holland
In the kingdom of Sempera, time is currency—extracted from blood, bound to iron, and consumed to add time to one's own lifespan. The rich aristocracy, like the Gerlings, tax the poor to the hilt, extending their own lives by centuries.
No one resents the Gerlings more than Jules Ember. A decade ago, she and her father were servants at Everless, the Gerlings' palatial estate, until a fateful accident forced them to flee in the dead of night. When Jules discovers that her father is dying, she knows that she must return to Everless to earn more time for him before she loses him forever.
But going back to Everless brings more danger—and temptation—than Jules could have ever imagined. Soon she's caught in a tangle of violent secrets and finds her heart torn between two people she thought she'd never see again. Her decisions have the power to change her fate—and the fate of time itself.
Review

I was instantly intrigued by the concept of this book and as soon as I read the synopsis I could not wait to pick it up and experience a new fantasy world.  I remember watching the film 'In Time' starring Justin Timberlake and really enjoying it so a book with a similar plot got me all excited.
Although the premise was promising the story really fell short for me from character development to the predictable moments within the story. Now don't get me wrong it wasn't all predictable and the end of the novel was a lot more interesting than the beginning. It just did not grasp my attention as a book should and I found myself getting bored while reading it over and over again.
The possibility of me reading the second novel in the series is quite slim and Everless did not help pull me out of the major reading slump I was stuck in during January.
Hunted, Meagan Spooner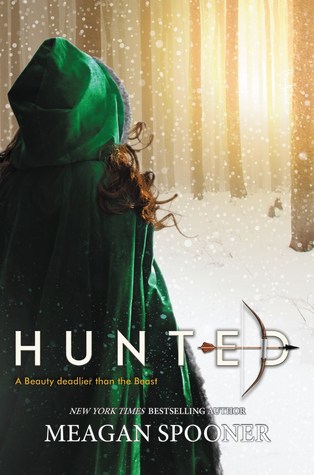 Beauty knows the Beast's forest in her bones—and in her blood. Though she grew up with the city's highest aristocrats, far from her father's old lodge, she knows that the forest holds secrets and that her father is the only hunter who's ever come close to discovering them.
So when her father loses his fortune and moves Yeva and her sisters back to the outskirts of town, Yeva is secretly relieved. Out in the wilderness, there's no pressure to make idle chatter with vapid baronessas…or to submit to marrying a wealthy gentleman. But Yeva's father's misfortune may have cost him his mind, and when he goes missing in the woods, Yeva sets her sights on one prey: the creature he'd been obsessively tracking just before his disappearance.
Deaf to her sisters' protests, Yeva hunts this strange Beast back into his own territory—a cursed valley, a ruined castle, and a world of creatures that Yeva's only heard about in fairy tales. A world that can bring her ruin or salvation. Who will survive: the Beauty, or the Beast?
Review
After the struggle of reading Everless I really needed a good book to read. I picked up Hunted in Barnes and Nobel on my holiday and I had really high expectations. Especially after seeing all the hype surrounding this book on booktube and within the blogging world. I have always loved my fairytale retellings and after reading Naomi Novik's Uprooted it was time to find another mesmerising tale to dig me out of my reading slump.
I really hated this book. I was so close to DNTing it on a number of occasions but I was determined to persevere and make it to the end.
There were so many occurrences within the book that I though the story could have gone without and the relationships between a number of the characters including Yeva and the Beasts really irritated me.
Although I have so many negative opinions on this book I do have to admit the the writing itself was beautiful. It was a well written story. I just really did not enjoy the story itself or the characters.
TV
Doctor Foster (Series 2)
A trusted GP sees her charmed life explode when she suspects her husband of an affair. As she uncovers secrets that shock her to the core, how will Dr Gemma Foster react?
Hell hath no fury like a woman scored.
I watched series one of Doctor Foster when it first aired on BBC One back in 2015. I stumbled upon it by accident and I was hooked from the first episode. I found myself counting down the week for the next episode.
So when it was confirmed that a second series would be made I was so happy, although a little reluctant to watch it. Why ruin something that ended in the perfect way?
Unfortunately, due to commitments I missed the second series when it aired on tv. However, it was recorded ready for me to watch when I had some free time. I just never got around to it.
I had a long haul flight this month and it was the perfect opportunity to catch up with the show. Especially as British Airways had the entire series as part of their inflight entertainment.
I devoured the series during my flight to New York and I can tell you it did not disappoint. It was an emotional rollercoaster that made my blood boil one minute and left me in tears the next.
The ending itself broke my heart and although a third season to end the heartbreak would make me ecstatic I think it should be left be.
I have so much praise for this show and recommend that everyone watches it.
Peaky Blinders
A gangster family epic set in 1919 Birmingham, England and centered on a gang who sew razor blades in the peaks of their caps, and their fierce boss Tommy Shelby, who means to move up in the world.
My dad got me into this show. I never thought I'd see the day where he would obsess over something that is not football or western related. I mean if he's not at the footy you can guarantee he's watching some old 'classic' cowboy western.
During the christmas and new year holidays I binge watched the first three series' of this show. I was instantly hooked. I do love a historical show! I am aware that this has been over-exaggerated for TV but it has become one of my favourite shows.
I started series four this month but I have decided to take my time with it. Season five is in production and I am so excited that it hasn't been cancelled but 2019 is too far away to have to wait for a new episode once they run out.
If you haven't already seen Peaky Blinders where have you been? I cannot recommend it enough. My Dad can't recommend it enough. I quote "It's reyt good, you need to watch it! And can you please order me a new flat cap. I have a grey and brown one. I need a black one". Thomas Shelby: My dads new fashion icon.
Reign
Mary, Queen of Scots, faces political and sexual intrigue in the treacherous world of the French court.
Whilst flying from Newcastle to London I was chatting to the woman sitting by me. We were taking about history and adaptations of historical events. She stated taking about a show she had watched recently called Reign.  During the recent bad weather I was scrolling through Netflix and it popped up. With a cup of tea in hand I decided to give it ago.
Now, I am not going to lie and say it is the greatest thing since sliced bread. I could happily live without it in my life. There are so many things that infuriate me about this show as a person who loves history. It's ridiculously unrealistic from the costume design to the way the characters behave.
I understand it is a tv drama and most productions these days are not historically accurate (I mean Peaky Blinders is one of them) but it is like watching an episode of 90210 or Gossip Girl set in the 1500s. Mary Queen of Scots' life is a something I read about often, it is such a riviting topic and it didn't need the modernisation and untruthful adaptation to make it interesting.
I suppose it was created this way just to gain the attention of teenage girls and to glorify life during this time period.
I am still watching this show and I do intend to finish all seasons because I want to see what else is changed for the purpose of entertainment.
Everything else
NEW YORK!
The boyfriend and I went to New York in February. Our first trip away since we bought our home last summer.
I won't go into much detail as I do intend to write a post about this trip in the future.
I will say that it was everything I expected it to be and more. Amazing atmosphere, Fantastic food and it was one memorable moment after another. We were constantly on the move because we didn't want to missing anything and I cannot wait to go back.
I think one of the main reasons I didn't read much this month was because of this trip. The week before I was packing, shopping and cleaning (for two I might add as the boyfriend was not very helpful when it got to the packing part). The week after we returned I spent every free minute sleeping. It is safe to say that I do not cope well jet lagged while working 40 hour weeks. It was worth every minute of suffering though!
Follow me!
Twitter : Click here
Instagram: Click here